As we enter into the summer months, wine direct-to-consumer (DtC) shipments are still shifting in response to a tumultuous year. While the industry has largely righted itself, it remains essential to pay attention to marketplace data to keep pulse on that continued change. 
Nielsen is collaborating with Wines Vines Analytics and Sovos ShipCompliant to provide a much more comprehensive view of the U.S. off-premise wine category than ever previously available, with a data product that enables both separate and combined views of retail off-premise sales and DtC shipments. 
Even with comparing COVID-impacted periods from last year and with the return of on-site tasting rooms, the DtC shipment channel volume increased, reversing a two-month decline. Dollar growth has also remained positive and ahead of volume gains. Consequently, the average bottle price shipped rose again, close to $4 more than levels of one year ago. 
Here are some highlights from the most recent data, along with commentary from Nielsen consultant Danny Brager.
DtC Shipments 
In June, DtC shipments reached $222.6M and 550.3K cases shipped.
Versus two years ago (pre-COVID), DtC shipment growth continues to be very robust – +54% on dollars and + 45% on volume. This is a strong indication that many wineries have adapted in expanding the effectiveness and efficiency of their DtC business.
Once again, growth was led by higher price tiers (minimum $30+) with $100+ the strongest tier, with less than $30 tiers in decline. It's likely that some consumers who may have come into the DtC market at lower price tiers may have now shifted back to the retail market for their wine purchases.
Napa and Oregon growth stood out positively versus one year ago, while all but the Central Coast had strong growth versus two years ago.
Sparkling wines continued to stand out as the wine type with the highest,most consistent growth in DtC. 
Retail Off-premise
In June, retail off-premise sales reached $1.5B and 14.6K cases.
As expected, with the return to the on-premise (to some degree), along with comparisons to large year ago comps in the off-premise, sales in this channel declined. However, the rate of decline versus last year moderated somewhat in June compared to April and May.
At the same time, versus two years ago, off-premise sales are still up on dollars, but barely up on volume. This signifies that consumers are still buying more expensive bottles of wine than in the past.
The wine declines versus one year ago, and gains versus two years ago remain well below spirits, and not better than beer. The latter benefiting from hard seltzers and other 'non core' beer-related segments. Versus two years ago, wine dollar and volume increases remain significant, but well below spirit gains.
Napa and Oregon origin wines continue to perform well at retail off-premise, with both the smallest decreases versus one year ago and the largest increases versus two years ago.
Sparkling was once again the best performing wine type.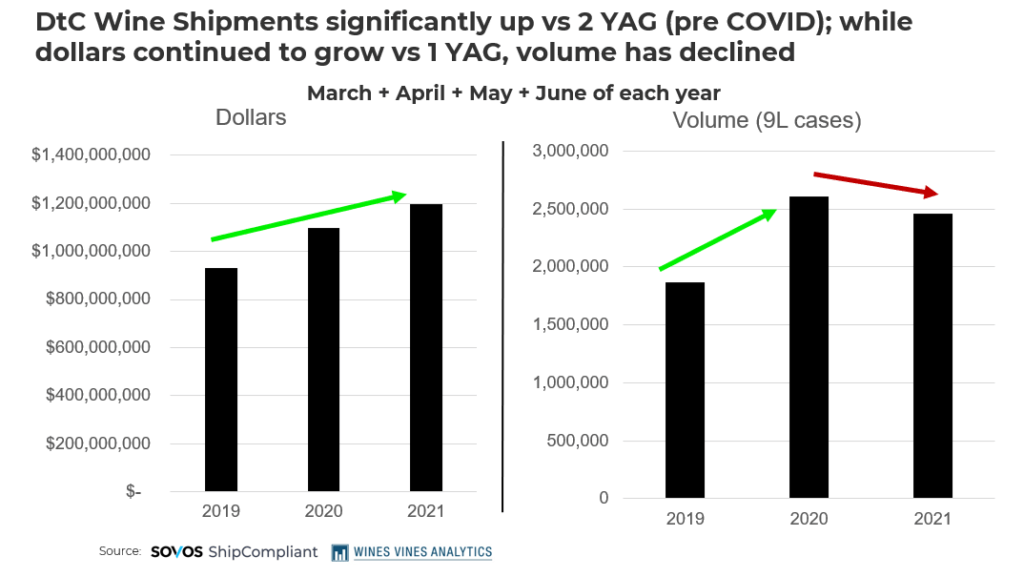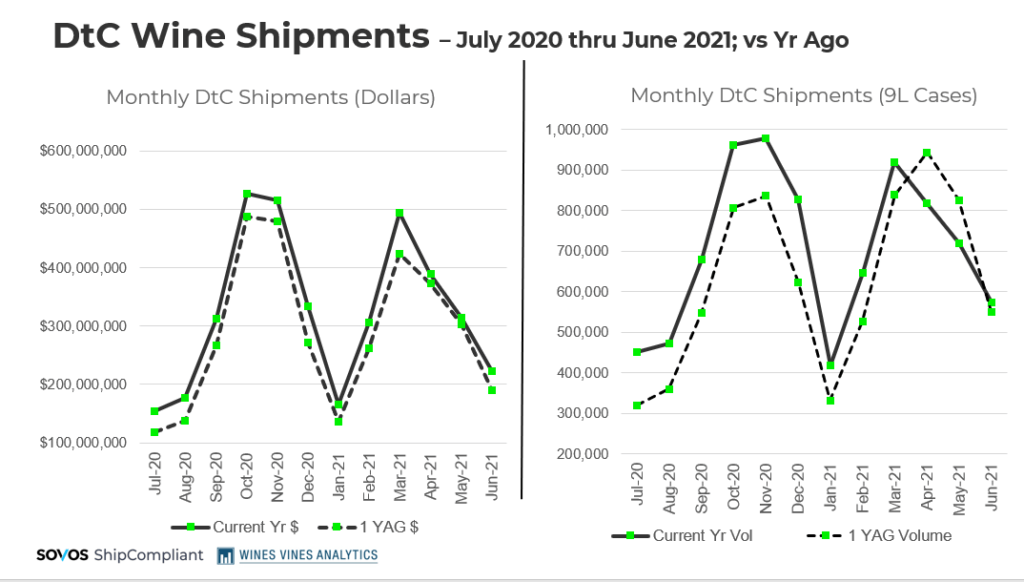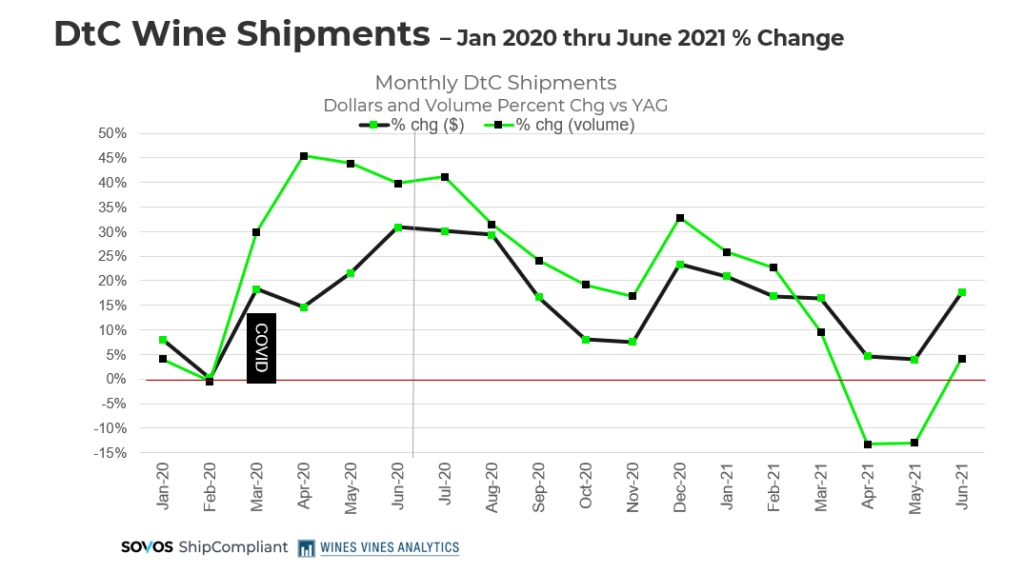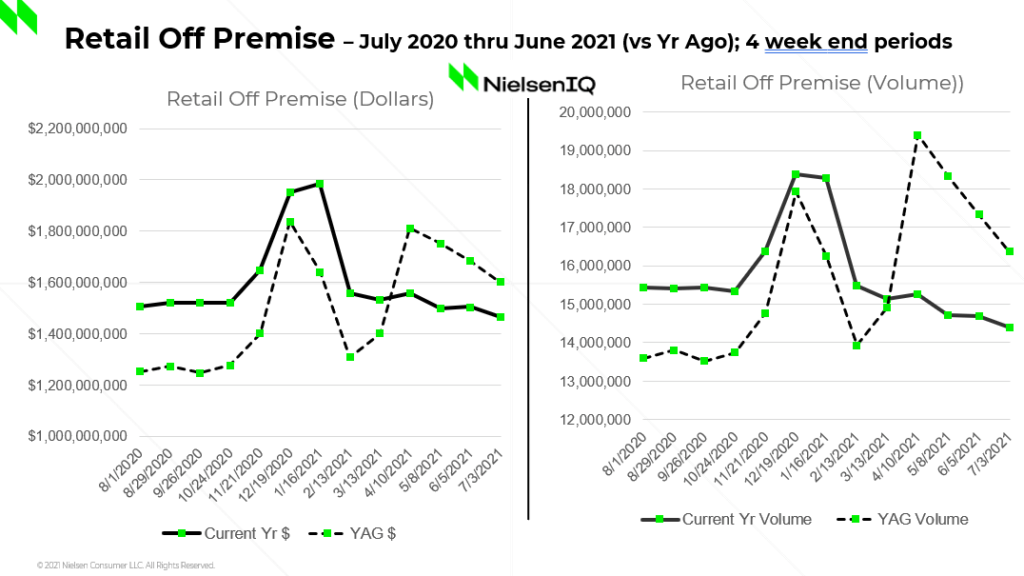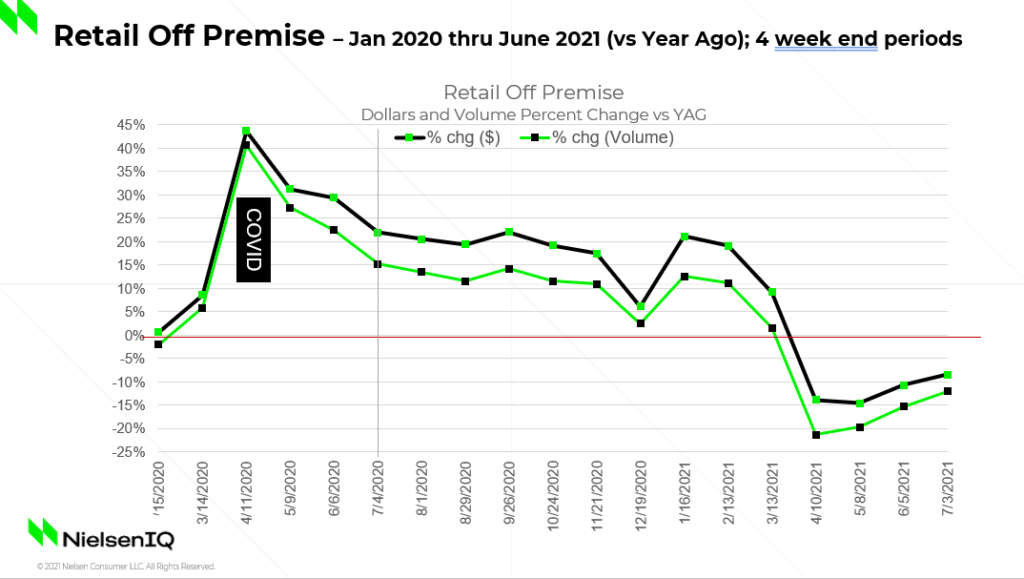 Interested in knowing more (e.g., by price tiers, varietals, origin, winery size, geography)? Contact Danny Brager at danny.brager@nielseniq.com.