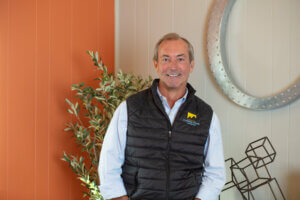 By Milton Cornwell, COO, Copper Peak Logistics — a ShipCompliant Platinum Certified Partner
Why should it matter if your direct-to-consumer (DtC) fulfillment partner has multiple shipping facilities? We at Copper Peak have found that the question of multiple shipping facilities is a very misunderstood concept in the wine fulfillment business, especially when it's called many things: bifurcation, forward staging and splitting inventory. Some wineries assume that multiple facilities means that the vendor is too big for them, or the concept is possibly too complex to undertake. Others worry about tax and shipping compliance laws. 
Here is the main thing to consider when talking to a fulfillment partner with more than one warehouse location: How will this help your winery achieve its goals of greater customer satisfaction, faster speed to market and better provenance for product shipments?
We have been making the case for two warehouse locations since our launch in 2007 and now more than ever with the continued growth of DtC sales across the United States.
How does it work?
Today's customers are accustomed to Amazon and other retailers offering two-day shipping on just about anything. But if you have a winery in California, there's no way to ground ship to the East Coast in that timeframe.
Enter bifurcation. With bifurcation, a proportion of your inventory is sent to a second location that is more centrally located in the middle of the country for storage. When orders are processed, they are packaged and shipped from the location that is closest to its end destination, thus achieving a faster delivery to market.
Benefits of a multiple shipping facility strategy 
There are several key benefits to bifurcation:
Improve time in transit (TNT): A multiple location strategy allows you to greatly reduce the time in transit for packages, typically reducing East Coast orders from five days down to two days. That does a lot to keep your customer promise and increase customer satisfaction.
Cost savings potential: Of course, if you are already using next day or two-day air for east of the Rockies shipments, you will not improve TNT, but you can maintain the same performance by using ground service. This factor can generate big cost savings, sometimes as much as 30% to 35% on shipping cost (additional savings can be had as this does not account for fuel surcharges, which are historically charged at higher fees for air service versus ground service).
Better weather management: Forward staging at a second facility also minimizes some of the risk to your product due to weather issues and handling by the carriers. The less time on the road, the better for sensitive products like wine and some craft beverages.
Address supply chain bottlenecks: The explosion in ecommerce sales activity has created a strain on carriers. It is well documented that delivery performance issues have crept up, and by splitting the order flow to multiple facilities, there is an inherent benefit by spreading the activity. This is especially true during the holiday periods, when DtC shipping volume leaving Northern California hits its peak demand.
So, if you really are focusing on the customer delivery experience as part of your business model, it would be better to use forward staging with ground shipping everywhere in the country. We've had clients tell us that this enables them to offer promotions to increase brand loyalty, too. For example, it is much easier to throw in a reduced shipping offer, thus encouraging ecommerce sales.
Using multiple locations requires some planning
All that said, using multiple shipping locations will require some additional planning ahead to make sure enough product is located in each location to prevent out-of-stock situations. But if you are willing to do that kind of planning with your wine fulfillment partner, the benefits are definitely worth it.
For example, here are some things to consider when contemplating multiple shipping locations:
The greater the number of SKUs you have, the more complicated stocking and shipping can become.
Decide if you want to handle club shipments as well as daily orders out of a forward staged location.
Analyze your previous shipments by zip code to determine how many customers will see an improvement in their delivery experience, and which ones can be switched to ground shipping if they have been previously shipped using air.
Review the laws of the state where the facility is located. Some states will not allow shipments to be made from that facility to their in-state customers.
Remember to add the time it takes to have the product moved in bulk to the second location. This might require a regular LTL refer shipment to the more central location.
Keep it simple – test the waters. Nothing says you can't take a small sample size and see how it works out, from a customer and/or financial point of view.
Executing a multiple location strategy might be the smart move to get your chosen brands into the hands of your customers more quickly, more safely and at a more affordable rate that can encourage additional sales growth.
Since 2007, Copper Peak Logistics has been Northern California's premier direct-to-consumer wine fulfillment service, offering craftsmanship fulfillment to small/medium sized wineries and craft beverage producers. They focus on the human touch, white glove service, and honoring commitments. The Copper Peak team helps develop creative solutions to enhance your brand and their proprietary software manages the complexities of direct-to-consumer shipping. With facilities in both the Napa Valley and St. Louis, your wine is never more than two days away from your customers and is delivered cost effectively and perfectly packaged. If you have any questions about a multiple facility strategy, or you would simply like to learn more about the new Copper Peak Logistics St. Louis facility and how it can reach most customers in two days, contact Copper Peak.