In a previous post, we discussed how Oregon's wine direct-to-consumer market boomed in 2015. Of course, Oregon isn't the only Northwest region to enjoy the benefits of the DtC market boom. Washington, home to more than 890 wineries according to Washington State Wine, enjoyed sustained growth last year. Compared to its neighbor to the south, Washington's wine market may seem underwhelming. If we dig deeper into the numbers, however, we can see several bright spots that are contributing to the nation's DtC market boom.
Holding Its Own
From a winery perspective, Washington continues to see new businesses open their doors. Indeed, the state has gone from 620 wineries in 2009 to more than 890 in 2015! The jump was more modest from 2014 to 2015, with the addition of approximately 20 wineries.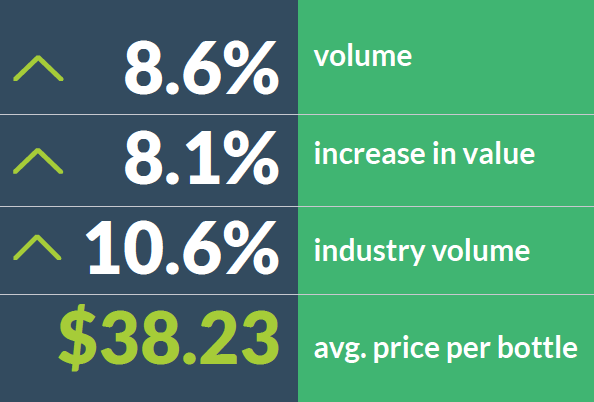 Washington State Wine also reported 220,000 harvested tons in 2015. Though this is slightly down from 2014's 227,000 tons, 2015 was the third year in a row the state harvested more than 200,000 tons.
Within the DtC space, Washington saw a 10.6% increase in volume from 2014, which is higher than the overall industry's 8.5% volume increase. This volume increase came at a cost of value, though. The region's average bottle price dropped 5.2% to $34.08 while the overall industry saw a slight average bottle price drop to $38.23 from $38.40 in 2014.
Love for Syrah/Shiraz and Blends
Washington is the only wine region in the country to see growth in the Syrah/Shiraz. The varietal saw a 6.8% increase in volume and 17.3% growth in value. From an average price per bottle perspective, Syrah/Shiraz jumped 9.8% to $4.18, making it one of the highest price increases in the region. For comparison, the varietal saw a 7.6% decrease in volume across all regions since 2011, while the overall DtC market saw a 45% growth over the same period. In 2015, Oregon saw a staggering 24.9% drop in Syrah/Shiraz alone!
It's also interesting to note that Syrah/Shiraz, though being third in total volume shipped from Washington, was actually fifth in tons harvested. Washington reported a total 16,000 tons harvested in 2015, only a third of the 47,400 Cabernet Sauvignon harvested over the same time.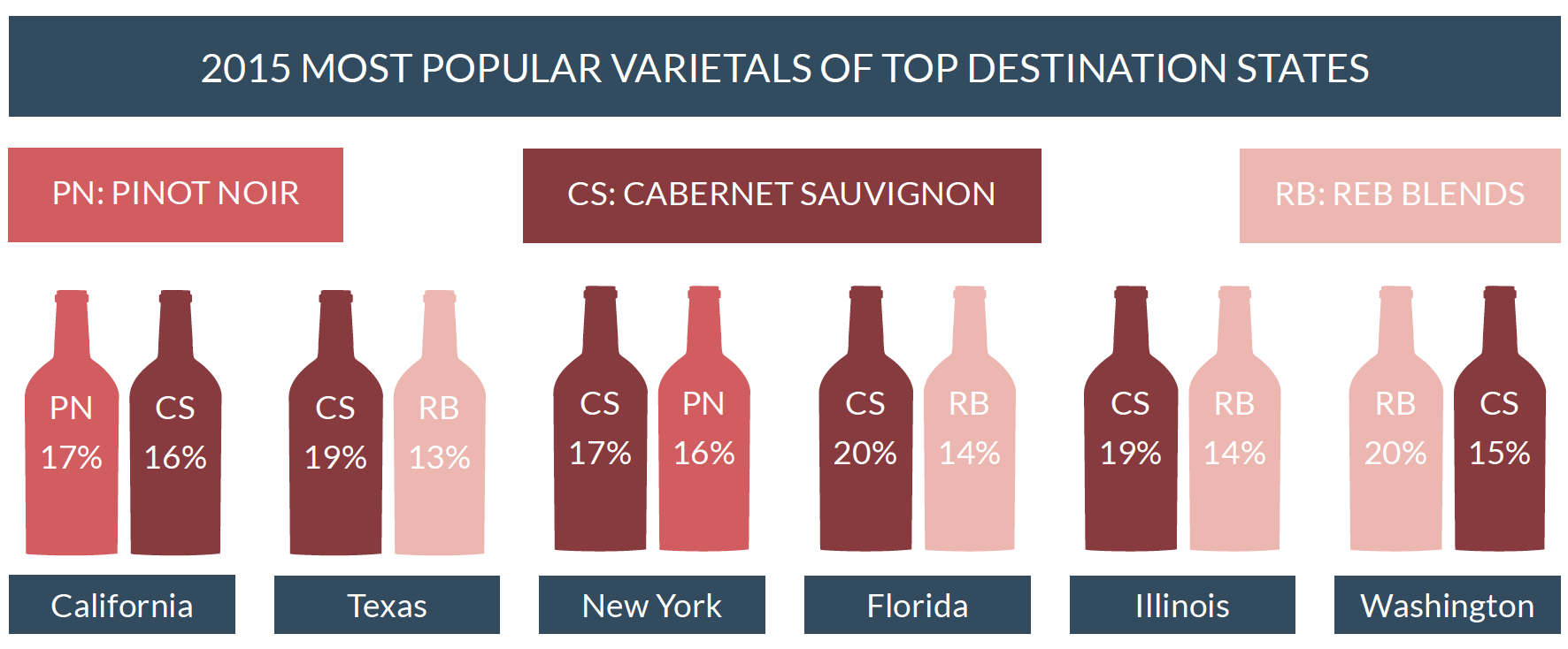 While Syrah/Shiraz was the standout for Washington, blends also saw huge jumps in volume. Red Blends saw a 47.6% volume increase to 42,440 shipped cases in 2015. With a 27.6% share of the total volume shipped last year, Red Blends easily dominated Washington's DtC market for comparison, the second-leading varietal by volume was Cabernet Sauvignon at 15.5%). Though White bends only took 5.4% of total volume, the varietal saw a 125% volume increase to 8,327 shipped cases.
Growth of Smaller Volume Varietals
Given the performance of blends, it should be no surprise that these varietals also saw an increase in average price per bottle. Red Blends increased 64.6% to $36.99 while White Blends increased 93.5% to $16.93. However, other varietals also saw significant increases in their price tags as well. Riesling and Sangiovese saw a price increase of more than 60% to $18.34 and $25.23. The price of Zinfandel increased a whopping 391% to $25.33. Among the smallest volume varietals, Petite Sirah's value increased 320.1% to $21.39. Last year, no varietal saw more than a 138% values increase in Oregon (the winner being Fume/Sauvignon/Blanc). Zinfandel also saw a 353% volume increase to 1,047 cases, while Petite Sirah saw a 238% volume increase to 308 cases.
Washington is a great example of how one region can defy trends within the overall DtC space. Syrah/Shiraz, a declining varietal around the rest of the country, shows great promise within the state. Smaller varietals saw price increases of more than 300%, signifying that people see value in these more select wines. While the DtC space is always growing, regions like Washington make studying the industry especially exciting for all of us involved!
If you'd like to see the full report of this data, download our 2016 Direct-to-Consumer Report.