Making sure orders are up-to-date and within the boundaries of each state's regulations can be a stressful and time consuming process every month. If you're frustrated in any way with your current fulfillment processes, I highly recommend you take a look at ShipCompliant's Fulfillment Management tools. We make it really easy to batch your club and daily shipments, print packing lists, check the temperature forecast for your packages, synchronize inventory levels, print shipping labels, and track packages, all while making sure that you stay in compliance with the laws, regulations, and reporting requirements of each state.
Fulfillment and compliance are highly dependent on each other. Some states require tracking numbers, carrier codes, and the name and license of the third party logistics (3PL) provider to be reported along with order data, which means your compliance department needs to know what orders have actually shipped, by who, and when.  ShipCompliant Fulfillment Management seamlessly sends your orders to any of our 20+ compatible and integrated 3PL partners or to your in-house fulfillment team for processing. Once processed, tracking numbers are added to your account to automatically and accurately update the actual date of shipment and shipment status directly from the carrier so that orders can be accurately reported to state agencies.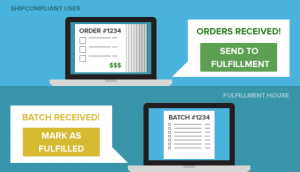 That's not all. Since orders are immediately visible at your specified fulfillment location through ShipCompliant's Fulfillment Management page, any issues with an order — such as insufficient inventory or unsafe shipping temperatures — can be flagged by your fulfillment location or shipping department for you to view in real time and work together to resolve.
Once orders are shipped and tracking numbers are added into ShipCompliant, they are immediately available and ready to go to work! ShipCompliant's real time integrations with the UPS, FedEx and GSO tracking services alert you of any issues marked by the carrier, such as failed delivery attempts, undeliverable packages, and much more, so you can prevent spoilage, returns, and be proactive with your customers. There are also valuable Analytics reports available to analyze your delivery metrics, unshipped orders, and delivery attempts, to name a few.
Lastly, there is no need to manually update order information in your eCommerce, wine club management, point of sale, accounting, or third party systems. Certified and integrated systems will synchronize the most up-to-date order data from ShipCompliant, and in turn, have all information effortlessly updated for consistency across all systems.
Ready to get started? ShipCompliant clients have these powerful tools available within the Fulfillment Management page in their account already. If you have any questions or would like to receive a customized training session with our Client Service team, please contact us.