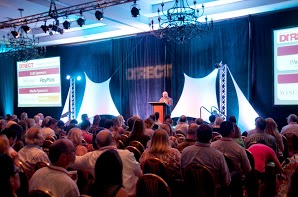 We look forward to the DIRECT Conference each year, however, this year's conference promises to be the most exciting yet! Here are some reasons we are excited.
1. Our amazing keynote speaker, Zingerman's Co-Owner & Founding Partner, Ari Weinzweig
What can a deli in Ann Arbor, Michigan teach the world about building a business that is both culture-driven and wildly profitable? Plenty, as it turns out, and Ari Weinzweig, Co-Owner and Founding Partner of the acclaimed Zingerman's Delicatessen is on a mission to do just that.
In his keynote presentation at DIRECT, Weinzweig will share his visionary approach, which has propelled the Zingerman's Community of Businesses (ZCoB) to success,  including the "natural laws of business" as introduced in his book, Zingerman's Guide to Good Leading: Part 1, A Lapsed Anarchist's Approach to Building a Great Business. He is known for his engaging and eclectic public speaking style, which fuses humor with practical instruction.
In addition to writing a series of books, Weinzweig has translated his model into a program dubbed Zingtrain, which facilitates training for diverse companies around the country, including Domaine Carneros Winery. "We have used the Zingtrain model to revolutionize our business," said Eileen Crane, Domaine Carneros' CEO. Weinzweig's speech promises to be an unforgettable start to DIRECT 2014; you won't want to miss it!
2. New two day format = more time for ShipCompliant University!
For the first time, the DIRECT Conference will be spread throughout the course of two days, May 8 and 9, in order to deliver more content and value to participants than in previous years.
Day 1 will be focused on Strategies for Wine Sales Success, filled with valuable information for winery executives and anyone interested in shipping wine, including winery owners, tasting room managers, compliance professionals, financial teams, shipping managers and more. In addition to Weinzweig's keynote presentation, the agenda will include a look at the changing industry with ShipCompliant CEO Jason Eckenroth, state-by-state legislative updates with Steve Gross (Vice President, State Relations, Wine Institute), a panel of leaders in the industry, and an exhibitor showcase. Check out the full line-up of industry focused breakout sessions and speakers.
Day 2 will be fully centered around ShipCompliant University, a series of offerings focused on delivering education that enables users to make the most of ShipCompliant software. Not only will clients have a first look to explore the brand new features announced, they will also get hands-on training,  and one-on-one sessions with the ShipCompliant Client Services team. Additionally, Client Services will address any questions specific to your business or workflow right there in person!
3. Most importantly, the opportunity to spend time with YOU!
In all honesty, what we're most excited about is being able to connect with clients  and industry friends in person! While we build relationships with you all year long, we count down the days until we can put faces to names and learn more about your needs. We strive to make DIRECT the best possible experience for all those who come. "Those who attend DIRECT will take a giant step forward with their business and leadership skills. We can't wait!" said Sam Straka, a member of our Client Services team. Learn more and register today to confirm your spot for DIRECT 2014. DIRECT is happening May 8th and 9th!
Special offer for ShipComplaint Blog subscribers: Save 10% on your DIRECT registration with discount code SCBLOG10.